I decided I needed a new project. Emmie's main teacher is leaving her daycare so I thought I'd make a scarf or something for her. So, I pulled out all my knitting books and magazines that I thought would work. About 6-7 books and magazines. I flipped through each of them until I found this:
The Cache Boeur bergamo. I longed to make this but not for her teacher. I moved on. I kept looking and looking and finally came back to it. It's so pretty. She's not leaving for a month. I have plenty of time to make this and something else for her.
I found a dark purple ribbon yarn that was knitted into most of a top. I had run out of yarn but left it all together waiting for yarn that would never come. I ripped it out and knit a swatch. Too skinny and too drapey.
I found a thicker light purple (yes, my stash is mostly purple and blue and yellow for some reason) merino that I had been saving for a sweater and started up. Perfect gauge. Looked pretty good…but it did not want to be a sweater. If I'm completely honest with myself, I don't like wearing chunky knits. So often, though, I am not honest with myself. This only took about 1.5 inches of knitting before I ripped that out, too.
And now I am knitting this: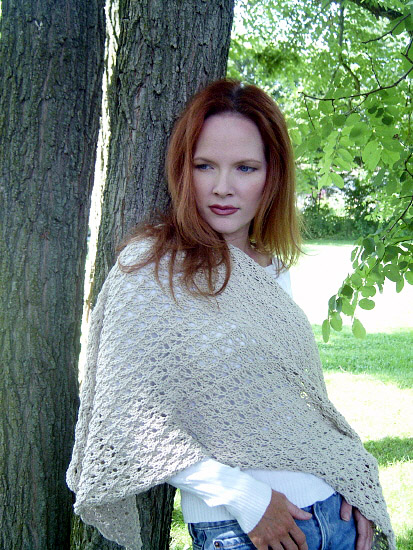 I knit Cozy several years ago for my grandmother and loved it.
That is what it takes for me to start a project. I always rip out at least twice (I've ripped this Cozy out twice already) and I usually change my mind halfway through every project. Because it has to be perfect.